By Kaitlyn Ersek on Jun 12, 2014 6:59:00 AM
The Holganix Blog
What will the golf industry look like in 2050?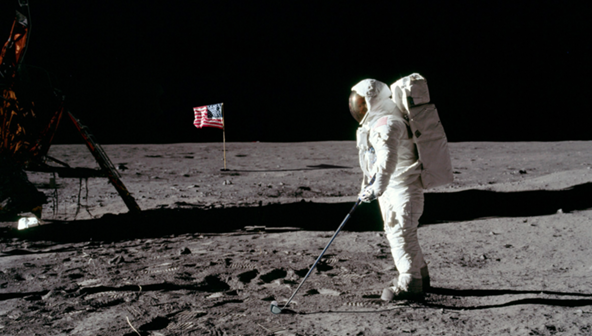 What will the golf industry look like in 2050? This is the question Superintendent Magazine asked the pros in their April issue. While you may entertain visions of playing a round of golf on the moon or flying golf carts that look more like star ships, let's take a realistic look at the future of our industry in terms of turf health.
"Scientific knowledge is estimated to be doubling every five years," says Jack Uldrick, a global futurist (who knew there was such a career?) in a Superintendent Magazine interview. This idea may seem far-fetched, but consider what our industry looked like in 2005.
Water
Although it may not seem like buried treasure, water, nicknamed by economists as "blue gold," could be a big barrier for golf course superintendents. In the May issue of Fortune Magazine, journalist Brian Dumaine forewarns businesses that water is a key concern for all of our industries but especially agriculture and related industries (including our golf course industry).
According to PepsiCo CEO, Indra Nooyi, "The world water crisis is one of the most pressing challenges of our age." The U.S. population is currently at 317 million and is expected to grow to 439 million by 2050 according to the U.S. Census Bureau. At the same time, fresh water is dwindling. According to Fortune Magazine, "In the 1950s the country had 50,000 rivers. Since then, industry and agriculture have siphoned off so much water that only 23,000 remain." Furthermore, San Diego is currently living through "one of the worst droughts in 1,200 years and now has to import 90% of its water," says Fortune Magazine. Texas is faced with similar problems; 95% of the state's counties were designated disaster areas in April due to the scarcity of water.
For the golf course industry, water consumption is expected to be severely limited by government regulations, says Superintendent Magazine. Today in Georgia, regulations are already kicking in. A Georgia planning committee has allocated 0% increase of water use for all golf courses through 2050. "So," says Superintendent Magazine, "if 20 new golf courses open between now and that time, the state's current courses will have to share that water allotment with the new courses." Ultimately, it's going to push superintendents to start storing water. By 2050, "golf courses will only be able to use the water they can store," says Mark Esoda, superintendent of Atlanta Country Club in Marietta, GA.
Other expected innovations are the widespread use of sensor technology as prices for the technology drop and the user experience becomes easier. "Sprinkler heads," states Jeff Carlson, superintendent of Vineyard Golf Club in Massachusetts, "will be a thing of the past!" Carlson is discussing irrigation systems "comprised of underground sensors and subsurface drip irrigation" as a new technology for the future.
But water conservancy doesn't just affect the way we irrigate in the golf industry; it's also going to affect the way we create and nurture turf. Creating drought resistant turf will play a part in improvements in gene sequencing. Biotechnology and bionutrition will also play a significant role. Superintendent Magazine points out an interesting study at Oxford University where they are researching the ability of "E. coli bacteria to deliver growth hormones to plant roots to prevent plant desiccation."
Superintendent Magazine also points out bionutritionals as playing a role in the future of the golf industry. For example, Holganix (a bionutritional plant product) contains natural ingredients that help support root growth, ultimately improving the plant's nutrient and moisture uptake as well as bolster the plant's ability to withstand drought. Organic wetting agents contained within Holganix also play a role. "I think we're just at the start of this revolution," says Carlson of bionutritional technology.
Pesticides
Synthetic pesticides have been making headway over the past few years. Today, pesticides "feature more environmentally friendly active ingredients and improved efficacy," says Superintendent Magazine. Superintendents are using less pesticides today than they did 10 years ago and the effects are prolonged. By 2050, pesticides will be much safer and "greener." Carlson mentions in his interview that future fungicides will be focused on enhancing the natural defenses of the plant as opposed to killing the fungus. In terms of pesticides, "bionutritionals and biopesticides, which are already making headway in golf course maintenance, will also improve and be more widespread."
Robots
Well, we might not have flying golf carts (or will we?) but robots are expected to make an impact in the golf industry by 2050. "More than ever, golf course maintenance will be about precision in 2050," says Esoda. Robots can help with that. While we don't want robots to replace people in the golf industry, it will change the way superintendents and assistants do their jobs. According to Superintendent Magazine, "The increase in technology could mean that superintendents and assistants will need more than agronomic expertise; they'll need to understand computer programming and engineering components as well."
Concluding thoughts
Take a minute to daydream. What do you think 2050 will look like? Where will you be? And what will your job look like?
While making predictions about the future is loads of fun, the message remains consistent. Superintendents, suppliers and other folks in the golf market have to start looking toward the future as they plan their next move. Things are changing, and we hope it will be for the better! It will be an exciting 45 years. 2050 here we come!