By Kaitlyn Ersek on Jun 17, 2014 9:41:00 AM
The Holganix Blog
Sustainability is a hot topic as Pinehurst hosts the U.S. Open and Women's Open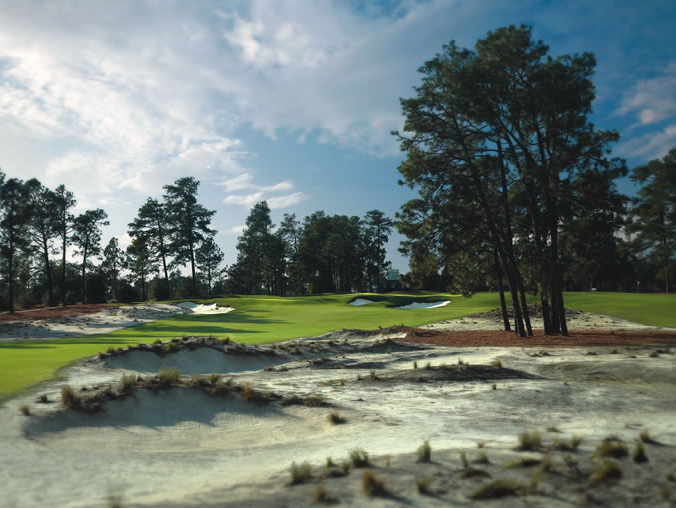 There's an aura of excitement and anticipation in the golf industry, as Pinehurst Resort, and specifically course number 2, prepares to host both the U.S. Open (June 12-16) and the U.S. Women's Open (June 19-22). "This is the first time in history that a course hosted both the U.S. Open and the U.S. Women's Open," says Holganix Sales Leader and self-proclaimed golf enthusiast, Matthew Seibel.
This time of the year is always an exciting one for golf lovers. The U.S. Open, which can be compared to the Super Bowl of golf (for all of the non-golfers out there!) began in 1895 and is one of the four major championship games in golf. "It's also exciting because anyone could win. Amateurs can qualify for the game just like professionals," says Seibel. Regardless, Pinehurst number 2 will be a tough course to play. Jonny Miller of NBC describes playing at Pinehurst as "like trying to hit a ball on top of a VW Beetle."
Yet, no matter who takes home the trophy, at the end of the day superintendents will be taking note of the course and what methods and ideas they can apply to their own courses. The topic of sustainability (reducing inputs such as water, pesticides and fertilizers) has been a buzzword since announcing Pinehurst as the host.
"Number 2 will be touted as the perfect way to be environmentally and budget friendly," says Anthony Pioppi in his Superintendent Magazine article Ensuring the Right Message When it Comes to Sustainable Golf. Pioppi cautions that "if the goal is to create a more sustainable golf course with reduced inputs, then Pinehurst may not be a blueprint for most clubs, but it can act as a guide." Pinehurst, which occupies a plot of sandy soils, may be a great model for golf courses located on similarly sandy soiled land but can't be the model for all courses. After all, "every course is different. There is no fixed point in golf. It's not a one-shoe-fits-all philosophy," says Tim Moraghan, the former director of championship agronomy for the United States Golf Association, which oversees the "preparation of the sites hosting the organization's majors for more than a decade."
And yet, sustainability in golf course management is an important topic to consider by superintendents. The golf course industry is changing as regulations around inputs and water usage grow in popularity and in severity. Furthermore, customer demand is rising by golfers for more sustainable practices on courses. In a survey by The Sustainable Golf Project, "96% of consumers surveyed indicated that they would like their regular golf course to become more sustainable."
"It will be interesting to see if the sustainable practices at Pinehurst help push for more sustainable practices at other courses," says Seibel. At the end of the day, "The number 1 lesson from number 2," states Pioppi, "might be to take the concept of sustainable golf and fit it to each individual golf course, not make the right course fit the ideal for sustainable golf." Moraghan sums up this concept when he notes, "We can take ideas like Pinehurst and learn from them."