By Kaitlyn Ersek on Oct 21, 2014 6:00:00 AM
"Mother Nature needs to grow these plants; not me," says Jeff Betters, superintendent of Walden Oaks Country Club in Cortland, New York.
Betters has been using Holganix Golf for two years at Walden, primarily on greens and tees. Essentially, the living microorganisms in Holganix Golf allow Betters to work with Mother Nature, putting the soil ecosystem in balance. Ultimately, this means Betters is able to drastically reduce his synthetic inputs.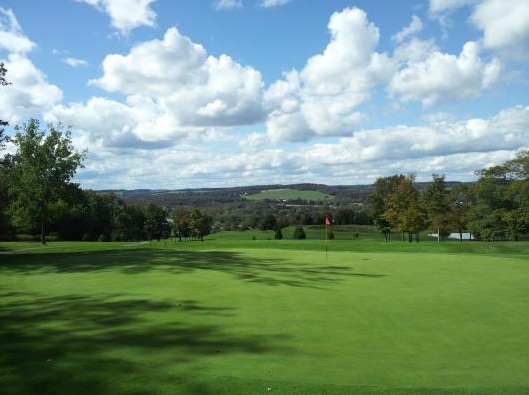 For Betters, his passion for the golf course industry blossomed at age eight. "It all started with a weed whacker and a couple golf lessons… that's when the golf bug hit me," says Betters. His original plan was to become a golf pro but he "couldn't quite keep up" so he pivoted his plan and took to caring for the course instead of playing on it.
After spending several years at golf courses around the nation, Betters found his way back to his hometown, caring for the local golf course.
Walden Oaks is an 18-hole semiprivate course comprised of 80% sand base and 20% clay-gravel soils. The course sees 40,000 rounds of golf and 100 tournaments on average each year. "It's a golf factory!" says Betters.
Members of the course are people Betters grew up with. "They were teachers of mine... coaches and friends. I like that they are playing on turf that's treated with an organic product."
Reducing Fertilizers & Pesticides
While traditionally not a huge advocate for organic products, he has quickly grown to appreciate what Holganix Golf can do for his course.
"At the end of the day," says Betters, "I'm a lean and mean facility… nitrogen fertilizer and fuel are huge costs for me." With Holganix Golf, Betters reports that he's nearly eliminated his nitrogen use.
"It's because Holganix Golf has allowed the plants to better access nitrogen already present in the soil after years of applications. In the future, adding nitrogen back in our program may be necessary."
With Holganix Golf, Betters has also been getting more effective use out of fungicides and a decrease in black layer. His pesticide rates have also been reduced.
"I'm excited to see how far we can take the Holganix Golf program at Walden Oaks," says Betters.
Holganix Golf improves the use of fungicides and many professionals can reduce the amount of fungicides used because the product builds functioning soils that result in resilient turf with deeper, thicker root systems. In fact, by having more resilient plants with a better root system, these plants are better able deal with the stresses caused by disease. The result is that you can often reduce the need for certain fungicides.
Nature has returned!
As an added benefit, Betters is excited to announce that the native animals are coming back to the course. "I've got more bald eagles on this site than ever before," states Betters.
"When golfers see all the nature and animals… I mean this is priceless! I'm creating moments for people."