By Kaitlyn Ersek on Apr 14, 2016 12:15:00 PM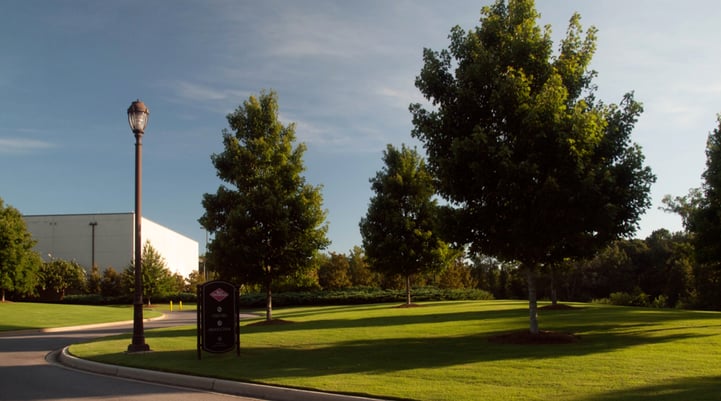 Holganix caught up with Brandon Haley, CGM, Grounds Manager of Red Diamond Tea's 72 acre corporate campus in Moody, Alabama to congratulate him for being the recipient of the PGMS (Professional Grounds Management Society) Green Star Award for the Industrial, Commercial and Office Park Category.
"The PGMS Green Star Award really recognizes the commitment to sustainability, levels of maintenance on turf and landscape, and recognizes the challenges we have on the property," says Brandon of the PGMS award. "I'm so thankful for my crew."
Brandon went on to explain how Holganix has played a role in achieving the beautiful, award winning landscape surrounding Red Diamond's Corporate Campus.
The most prominent results Brandon has experience are:
Irrigation Reductions: "We've cut back on irrigation by 75% over the last three years," claims Brandon. "Holganix has contributed in [last year's reductions]. Because our roots were so deep, I was able to go extra days without watering."

Fertilizer Reductions: "We have a pretty efficient use of fertilizer on our property," says Brandon. He was able to cut back from 3.3 lbs of nitrogen to 2.4 lbs in 2015. His target for 2016 is to lower his use down to 1.8 – 1.9 lbs.
"I won't plant anything on our property without Holganix," states Brandon. Watch the video below for our full interview featuring Brandon Haley. Then, check out Brandon's blog on sustainabile turf management: http://sustainablegrounds.net/blog/2016/8/31/holganix-review
In addition to being the Grounds Manager for Red Diamond Tea's corporate campus, Brandon is also an avid blogger and consultant on sustainable grounds management.
Want to learn more about Holganix? Check out our ingredient list!