By Kaitlyn Ersek on Feb 25, 2021 12:11:00 PM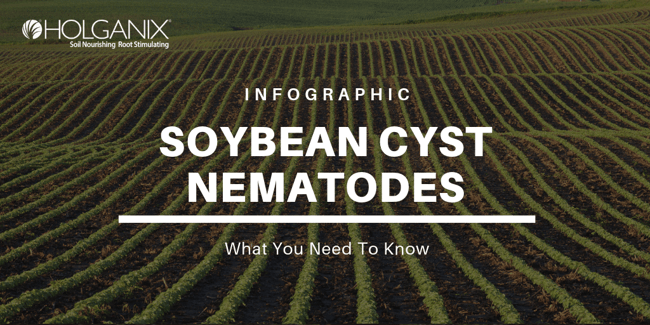 A silent predator, soybean cyst nematode (SCN) leads to an estimated $1 billion worth of yield loss in the U.S. each year. With planting season drawing closer, it's important to keep the threat of Soybean cyst nematodes under consideration.
Check out our infographic on the threat of soybean cyst nematodes and how your farm can proactively battle SCN in the field. Or, skip the infographic and scroll to the bottom to read the article in more depth.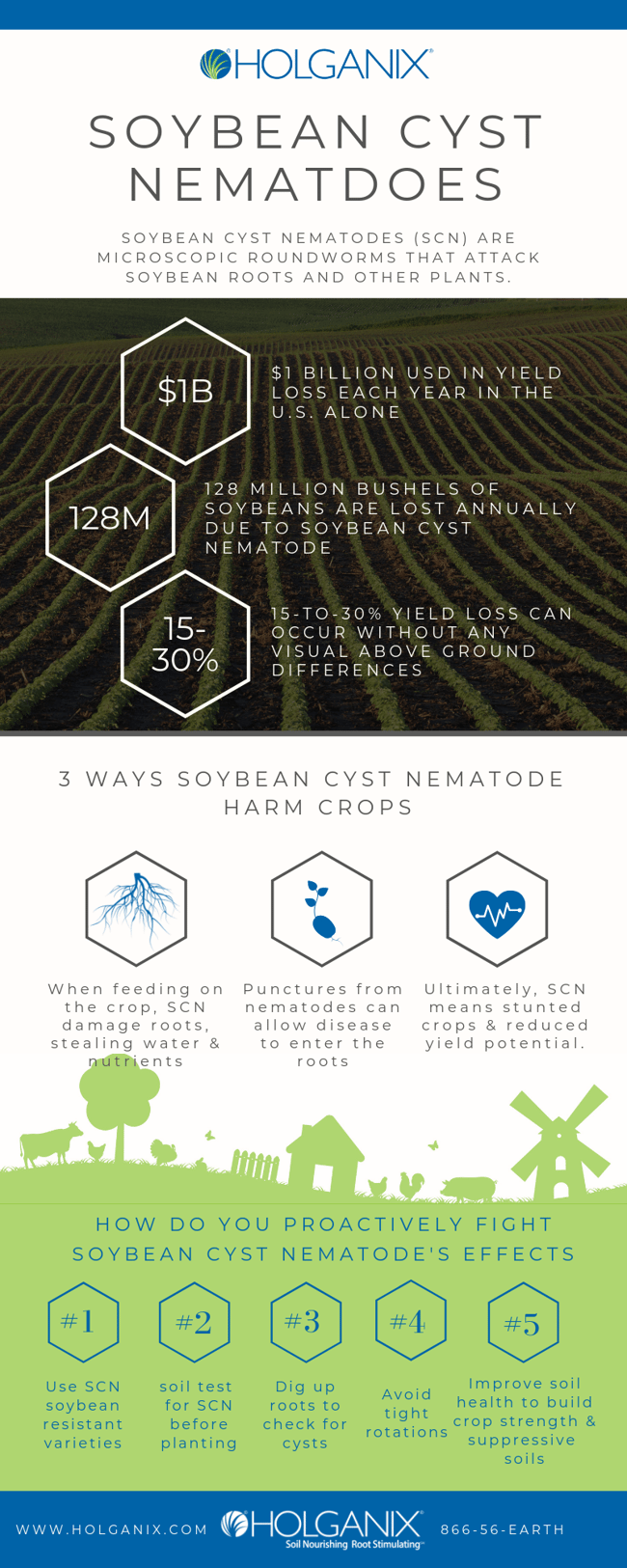 What Are Soybean Cyst Nematodes?
SCN are microscopic roundworms that attack soybean roots and other plants. Juvenile worms burrow into soybean roots to feed and develop. While feeding, the SCN damages roots by stealing water and nutrients. This can lead to stunted growth and reduced yields. In addition, punctures from the SCN can allow disease to enter the roots, furthering yield problems.
If the SCN is female, she has the potential to lay 200 or more eggs after her death, potentially leading to an infestation if the problem isn't curbed.
There can be visible signs of SCN, but they are also silent killers. In fact, 15-to-30% yield loss can occur without any visual above ground differences.
Which Farms Are Under Threat?
According to AgWeb.com "Farmers in the "I" states and other areas with known SCN populations should actively manage the pest because its developing resistance to certain genetics. However, states, where SCN is a new problem, face challenges, too." Fields or sections of fields that have high pH levels and standing water, can often have a greater threat than other fields. North Dakota State University Nematologist, Sam Merkell reports, "pH is more important than soil texture, but sandy soils can show more symptoms of nematode damage if the plant is water stressed."
Be Proactive With Soybean Cyst Nematodes
According to the SCN Coalition, avoiding tight rotations and using SCN soybean-resistant varieties are all proactive ways to fight the threat of SCN. In addition, conducting soil tests before planting and manually digging roots to check for tell-tale cysts, can all help.
Further, improving soil health, especially the presence of beneficial soil microbes, leads to the development of suppressive soils. Suppressive soils are those where soil-borne pathogens do little or no damage to the crop largely due to competition and predation by beneficial soil microbes. Improving soil health also helps by building a strong root system and by improving the crop's resilience against stressors, ultimately building healthier plants that better resist yield loss due to SCN.
New Tools To Battle Soybean Cyst Nematodes
Sometimes even the most proactive farmers have to pull out nematicides to battle SCN outbreaks. Holganix is currently developing a bionematicide that harnesses the power of soil microbes to fight juvenile SCN. While studies are still ongoing, preliminary results have shown a 75% reduction in pathogenic nematodes with Holganix technology in a lab setting and an 80% reduction in pathogenic nematodes in a field setting.
"We are excited about the opportunity with this technology," explains Holganix President of Agriculture, David Stark Ph.D.
>>Learn more about our preliminary results by visiting this blog