By Kaitlyn Ersek on Aug 8, 2018 6:30:00 AM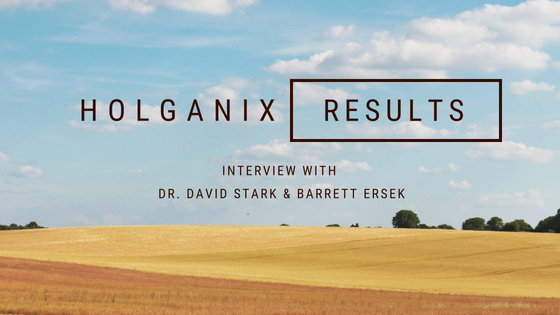 In today's blog, we sit down with Holganix Agriculture President, Dr. David Stark and Holganix CEO, Barrett Ersek for a 3.5-minute interview on the results farmers are seeing with Holganix Bio 800+ Agriculture. Watch the video below to hear the conversation or skip the video and read the highlights. If you are reading this blog via email, click here for the video.
Holganix – Dr. Stark, you have been working with our farmers for over two years, what are they seeing in the field?
David Stark, PhD. – Farmers are telling me that Holganix Bio 800+ Agriculture is easy to use and goes down well. They are also reporting increased yield and increased rooting - everything you would expect from a Holganix farmer.
Recently, I heard from a midwest farmer growing corn that applied Holganix Bio 800+ Agriculture on his worst ground; according to that farmer, it became his best-performing ground. I even heard from a strawberry grower in Georgia that called our sales representative and thanked the rep for selling him Holganix. According to the strawberry grower, Holganix saved his season and he saw better yields and an earlier harvest compared to the poor harvest his neighbors' had.
Holganix – Barrett, where do you see the microbial space in the next five years?
Barrett Ersek – It is an exciting space to be in! Today, being a farmer in America is challenging. Farmers have to be innovative and hussle in order to make a profit. Anytime Holganix can help a grower make a return on their investment in Holganix, we know we are doing our job for our farmers. We are seeing farmers make anywhere from a 4x to a 10x ROI on their use of Holganix Bio 800+ Agriculture
As an industry, I've seen a lot of investment pour into the microbial space. I believe that over the next five years, the industry will see microbes do everything from soil health, and crop yield to disease and pest control. At Holganix we intend to lead that revolution.
Want to dig into the science?
Looking to learn more about Holganix Bio 800+ Agriculture, click the link below to access a more in-depth video and article on the science and research behind the product.