By Kaitlyn Ersek on Apr 21, 2022 10:00:00 AM
Did you know that "soil removes about 25% of the world's fossil fuel emissions each year", or that when you use Holganix Bio 800+ Agriculture you can reduce your use of fertilizers?
Whether you are a farmer, lawn care operator, or golf course superintendent, if you are using Holganix products, we'd like to say thank you! You are promoting healthy soil and reducing your need for fertilizer, ultimately protecting our environment.
This Earth Day, brag about how you nurture a healthy earth.
Carbon Sequestration Captures CO2
In a process called carbon sequestration, soil can capture and store carbon dioxide from the atmosphere. Soil carbon sequestration helps restore degraded soils, improving agricultural productivity. By investing in soil health, farmers, golf courses, and lawn care operators can promote carbon sequestration.
Practices like no-till farming, rotating crops, and applying compost are some of the big drivers when improving carbon sequestration. Holganix Bio 800+ Agriculture helps improve carbon sequestration by stimulating root growth and contributing to the long-term health of the soil.
Soil Functions as a Pantry, Storing nutrients and water
Soil functions as a pantry, storing and cycling nutrients and storing water for plants. The healthier the soil, the healthier the pantry!
This is critical because only 36-42% of the current year's applied nitrogen goes to the crop (corn, rice, and small grains). In fact, soil organic nitrogen turnover (the nitrogen that is mineralized or cycled in the soil by soil microbes) contributes more nitrogen to crops than the nitrogen applied directly to those crops.
Plus, according to the USDA, every 1% increase in organic matter results in as much as 25,000 gallons (about the volume of a one-car garage) of available soil water per acre."
Practices like adding microbials (think Holganix Bio 800+ Agriculture), no-till farming, or applying compost are some of the big drivers when looking to increase the soil's ability to function as a pantry.
Reducing Fertilizer Requirements
In agriculture, farmers can reduce their use of fertilizer by approximately 10-15%, and sometimes more, by using HGX PRO Bio 800+. In turf, lawn care contractors can reduce their use of fertilizer by up to 50% using HGX PRO Bio 800+.
This is because Bio 800+ charges soil with over 800 species of beneficial soil microbes that:
Increase nutrient availability by making nitrogen-fixing bacteria and phosphorus-solubilizing bacteria more readily available.

Stimulate root mass and increase seed germination to improve the plant's ability to mine the soil for nutrients

Build long-term soil health so the soil can better capture and store nutrients – this is thanks to microbes that keep nutrients in the root zone longer, where plants can access them.
At Holganix we have a Greater Green Goal to eliminate 100 million pounds of nitrates, 25 million pounds of phosphates, and 100 million ounces of concentrated pesticides from entering the Universe by Earth Day 2025. To date, we are 35% to reaching that goal. Thank you to all who use Bio 800+ for helping us make progress on this goal!
>>Learn more about our Greater Green Goal here.
How does Holganix Bio 800+ Work?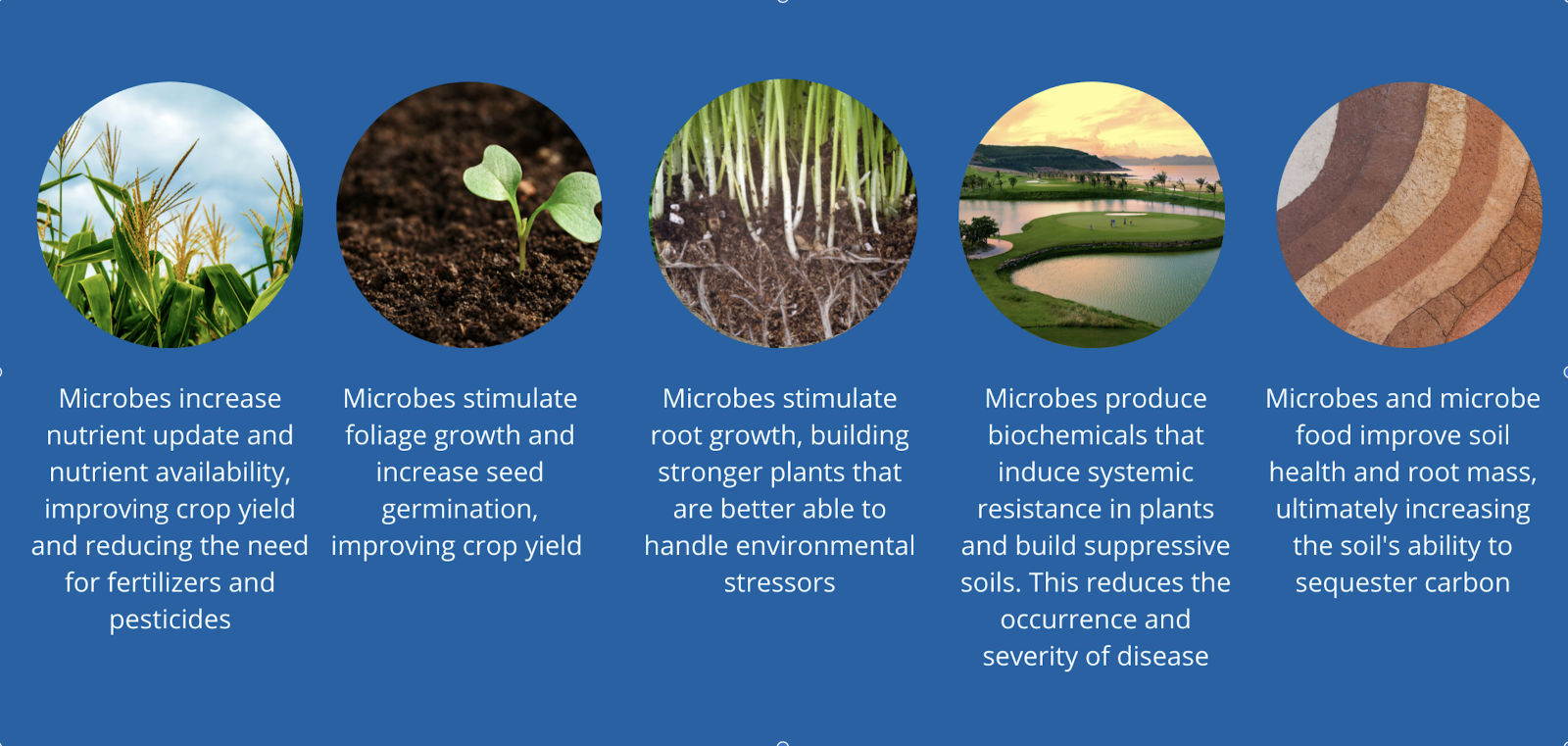 Holganix Bio 800+ harnesses the power of over 800 species of soil microbes to increase nutrient uptake and availability, improve root growth, and increase crop yield.
What can you expect from Holganix Bio 800+?
Maximize uptake of nutrients, minerals, and water

Develop soil health

Increase yield

Faster establishment

Boost roots; contributing to soil organic matter

Improve plant resilience against stress from traffic, weather, and other stressors
Watch the 4-minute video below, featuring an interview with Holganix President of Agriculture, Dave Stark, Ph.D., on the science behind Holganix Bio 800+.
Dig Into the Data
Over the years we have compiled data on several different plants, in different geographic zones, to deepen our understanding of how Holganix Bio 800+ Agriculture can help farmers, lawn care operators, and golf course superintendents maximize their agronomic results. Click the button below to explore our studies.