By Kaitlyn Ersek on Feb 13, 2017 11:26:35 AM
Last week at the Golf Industry Show in Orlando, Florida, Holganix customer Shannon Easter of Broken Sound Club accepted the coveted Environmental Leaders in Golf Award (ELGA). The ELGA is presented annually by GCSAA and Golf Digest in partnership with Syngenta and Rain Bird's Golf Division.
According to GCSAA's chief executive officer, Rhett Evans, "The ELGA winners are not only stewards for the environment, but excellent examples of the focus our industry keeps on sustainable efforts… They are on the frontline of how superintendents are making great playing conditions and environmental management practices work in tandem."
What makes Shannon's environmental efforts unique?
From fostering honey bee populations and installing bat houses, to creating a solar-powered parking lot, reducing chemical inputs and recycling 96% of Broken Sound's waste, Shannon and the team at Broken Sound have made it their top priority to produce an exceptional golf course while being stewards to their environment.
According to Shannon in a recent GCSAA interview, "Superintendents are trying to do the same thing, to show that golf courses are good for the environment. Being recognized for what we are doing is a feather in our cap here at Broken Sound."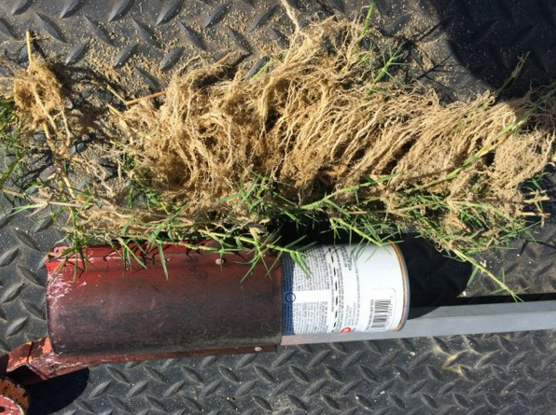 Roots by Shannon Easter, Broken Sound Club
Environmental Strides in Turf Management
Shannon incorporates Holganix Bio 800+ Golf to curb input use and promote turf and soil health. Through the use of Holganix Bio 800+ Golf, Shannon reported in 2015, "I noticed a substantial reduction in the presence of disease pressure and have decreased our fungicide use by 30%. That's less than I've ever used in the past." He has also reduced his use of nitrogen fertilizer by 20% and attributes Holganix Bio 800+ Golf to reduced pathogenic nematode counts.
According to Shannon, "Holganix Bio 800+ Golf has allowed us to reduce fertilizer and fungicide inputs and drastically increase turf performance and soil health."
Learn more about Shannon's Holganix experience in his two case studies:
Congratulations!
From the entire Holganix Team, congratulations to Shannon Easter for his continued and well-deserved success in the golf industry and at Broken Sound Club.