By Kaitlyn Ersek on Sep 19, 2018 12:05:59 PM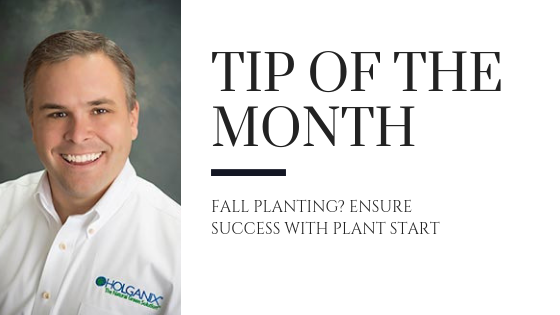 As a contractor, it is a challenge to ensure that freshly installed landscapes - whether flowers, trees, shrubs, sod, or seed - not only survive in their new home, but they thrive. Often, contractors take healthy plant material from a greenhouse or nursery and install it in dead soil which is common in new subdivisions. That plant struggles to take root and may even die. By using a Plant Start Application, contractors ensure plants thrive.
In his tip of the month video, Holganix CEO and Founder, Barrett Ersek and Holganix National Sales Manager, Rob McCoy dive into:
1. What is a Plant Start Application and what results can you expect
2. How to conduct a Plant Start Application
3. Success stories from contractors using Plant Start Applications on trees, shrubs, sod, and seed
If you are reading this blog via email, click here for Barrett's video.
Download A Copy Of The Plant Start Directions
Click the button below to download your copy of the Plant Start Application directions.