By Kaitlyn Ersek on Feb 19, 2019 2:00:00 PM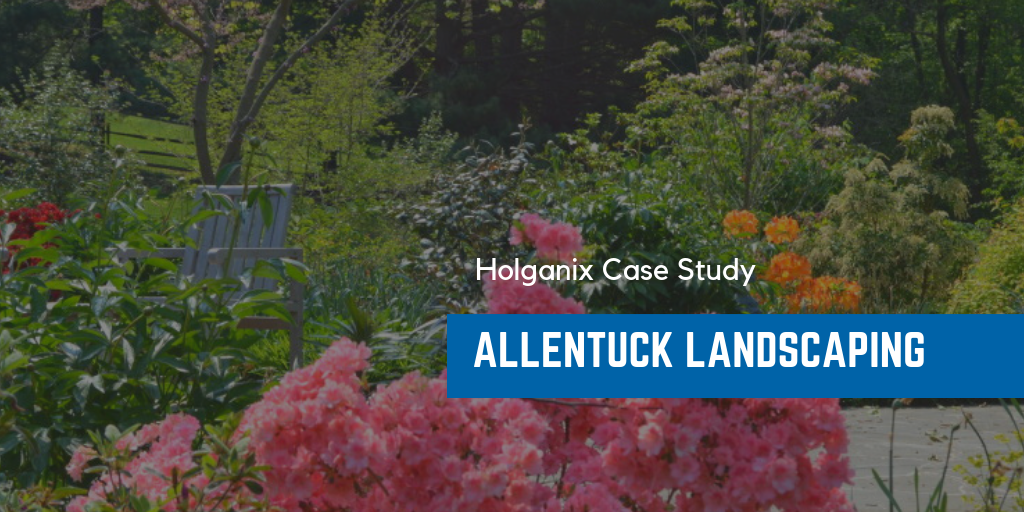 Award-winning, Allentuck Landscaping focuses on serving residential customers in the Clarksburg, Maryland market. Over the past three years, Allentuck Landscaping has been using HGX PRO Bio 800+ Tree and Shrub to service their plant health care customers.
HGX PRO Bio 800+ Tree and Shrub is an organic plant probiotic that harnesses the power of soil microbes to increase soil and plant health while reducing the need for fertilizers and pesticides.
According to CEO and Founder, Bruce Allentuck, "I believe in Holganix… it has been a great tool for our tree and shrub service". In this blog, we sit down and interview Bruce Allentuck about how he runs his business and why he chose Holganix.
Why Did You Start Allentuck Landscaping?
I grew up in an entrepreneurial household, my dad had his own business, and I always knew I would start a business at some point in my life. Back in high school, my friend and I started a little company doing odd jobs, many of those jobs were in the landscaping space. We shut down our company in college, but that experience encouraged me to pursue a degree in landscape design and horticulture.
I started Allentuck Landscaping in 1986, shortly after getting my degree. We serve residential customers and offer design-build and landscape management services.
What Makes Allentuck Landscaping Unique?
The biggest thing that makes Allentuck Landscaping unique is our laser focus on customer experience. I look at companies with great customer experience, like Marriott and Starbucks for ideas on how to continually improve the way we communicate and serve our clients. I try to express this feeling of genuine warmth and care to our clients. When they do business with us, I want our clients to feel like they are calling a customer service business that just so happens to be in landscaping.
For us, good customer experience means truly knowing the individual client. We can standardize practices, but every client is different and it is important that we tailor our services and communication style directly to that client's needs. It really comes down to empowering our account managers with the authority to make customer experience decisions.

One way we tailor services is through notices on our services. For example, some of our clients want to get noticed for every detailed service we do on their property, while others don't. We understand the level of granular communication the client needs, and then we make sure we deliver on it.
Why Did You Start Using HGX PRO Bio 800+ Tree & Shrub?
We started using the product about three years ago. The first year we did a lot of testing, but it has been actively used on properties over the past two years.
I'm always looking for ways to make Allentuck Landscaping more sustainable and I liked that HGX PRO Bio 800+ Tree and Shrub helped us not only reach sustainability goals but agronomic ones too. Specifically, I like that HGX PRO Bio 800+ Tree and Shrub focuses on promoting root growth and soil health. When you have healthy roots and soil you can really keep a lot of stress problems like pathogens in check.
What Results Have You Seen With HGX PRO Bio 800+ Tree and Shrub?
On our client properties, the biggest and most important benefit has been reduced disease pressure because we are creating healthier soil and roots. It also means we've been able to reduce a lot of our inputs, especially pesticides and fungicides, without sacrificing results.
In addition to our client properties, we use the product at our "farm" - the nickname for our office. It's a large property with vegetable gardens. Those vegetable gardens allow us to really dig into some of the results with HGX PRO Bio 800+ Tree and Shrub because we see them every day, and we can do things like dig up roots that we can't do on client properties. With the vegetables, we have seen a really good root system, and overall healthier-looking crops with less stress from the disease.
What Do Your Customers And Technicians Think Of The Product?
The feedback we get from our clients has been positive and our technicians like that the product is easier to apply and tank mix compared to other inputs.
Want to learn more about HGX PRO Bio 800+ Tree & Shrub? Download Our Key Ingredient List!
HGX PRO Bio 800+ Tree & Shrub is filled to the brim with beneficial soil microbes, microbe food, and nutrient enhancers to build HEALTHIER plants that need less fertilizer and pesticides.