By Kaitlyn Ersek on Nov 4, 2021 11:30:00 AM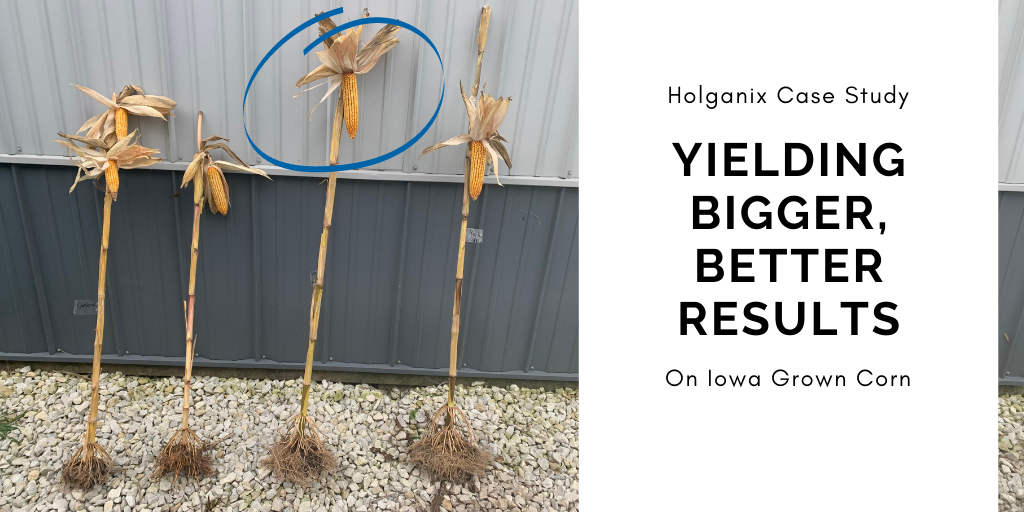 "As a farmer, my goal is to improve soil health, reduce input costs and increase yield," explains Cory Gamble, a third-generation farmer and certified crop advisor from Winterset, Iowa. To meet that goal, Cory uses a combination of Holganix Bio 800+, volcanic rock dust, and no-till farming practices.
Cory's family manages 1,500 acres and grows row crops (400-500 acres), as well as hay and pasture for cattle. He also utilizes cover crops on the fields. He first started using Holganix Bio 800+ in spring 2021 and has been functioning as a farmer dealer, promoting the products to other farmers in the region.
According to Cory, despite the hot, dry weather, the corn treated with Bio 800+ "showed vigorous growth, larger root mass, and a more uniformed formation on corn kernels. The soil also seems softer."
"As a certified crop advisor," states Cory, "I would recommend growers reduce their fertilizer inputs, apply Holganix Bio 800+ before or at planting, and then also use about 100 to 200 pounds of volcanic rock dust."
Keep reading to hear about Cory's experiments with Holganix Bio 800+ at his and his customer's property.
Experimentations with Holganix Bio 800

+
For the 2021 season, "my goal was to create experiments at my farm and on one of my customer's farms to see how Holganix Bio 800+ performs with my own eyes," explains Cory.
Experiment #1: Customer's farm uses Holganix Bio 800+ and Rock Dust on Corn
The experiment this farmer ran included three variables on corn: (1) control with fertilizer, (2) volcanic rock dust, and (3) a combination of Holganix Bio 800+ and volcanic rock dust. The Bio 800+ was applied at a rate of 0.5 gallons per acre a couple of days prior to planting. The corn was planted the week of May 16th.
"The combination of Holganix Bio 800+ and volcanic rock dust was the clear winner," reports Cory. "The control corn had much smaller rounds at the top with only 15 kernels, while the corn treated with Holganix Bio 800+ and volcanic rock dust were filled to the tip, had larger rounds with about 16 kernels around the tip of the corn".
When Cory's customer looked at the results his comment was "I guess adding all that fertilizer at the recommended rates isn't what yielded."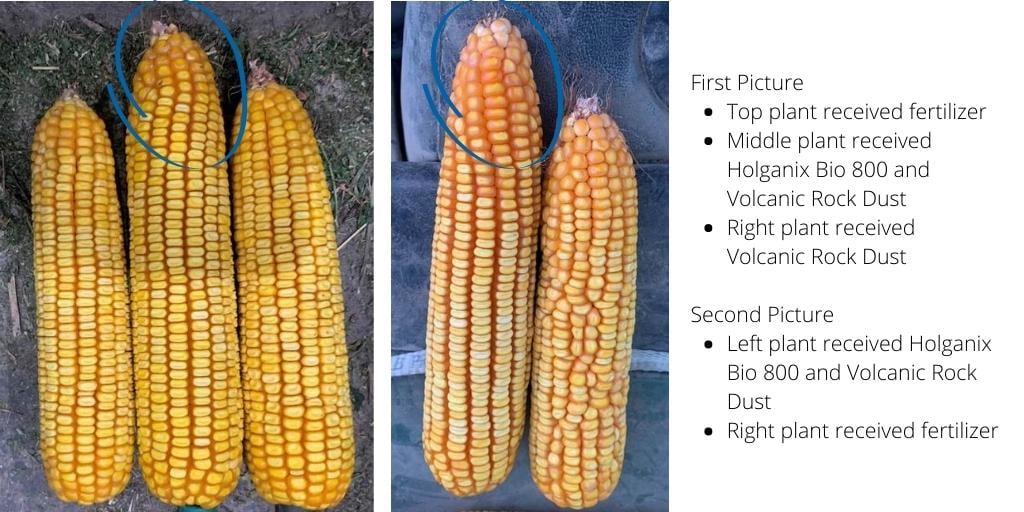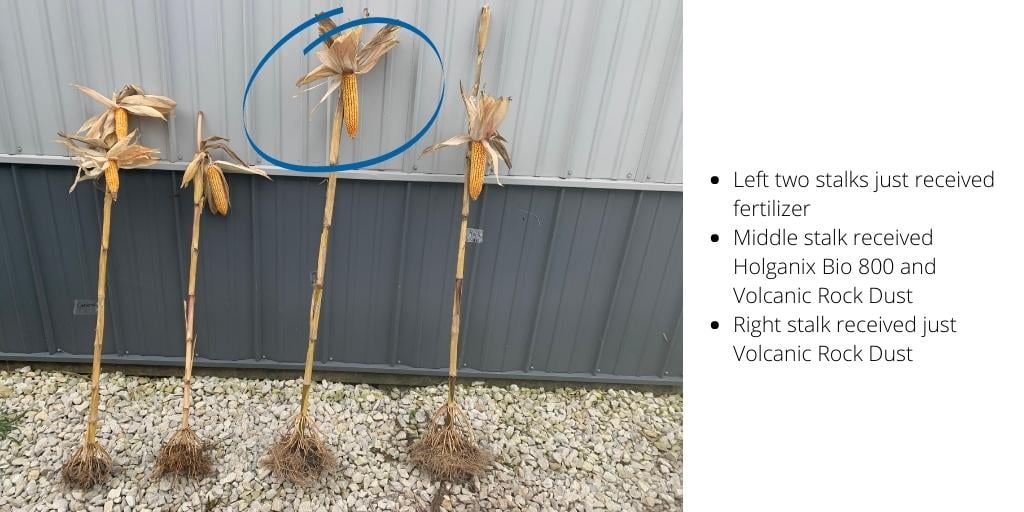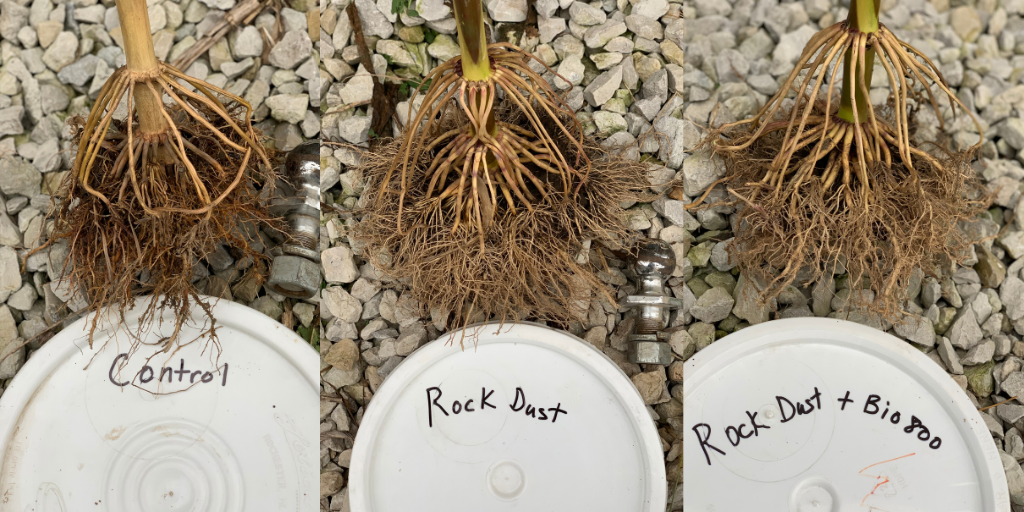 Experiment #2: Family's farm uses Holganix Bio 800+ and 50% reduced nitrogen on corn
The experiment Cory ran tested the efficacy of Holganix Bio 800+, a rock dust seed treatment (soil had received rock dust the year prior), and a 50% reduction in nitrogen. Cory applied a mix of Bio 800+ at 0.5 gals per acre and nitrogen at 100 pounds per acre. That mix was then knifed into the ground. Cory did not apply phosphorus or potassium.
Why Should Your Farm Use Holganix Bio 800

+

?
It all comes down to soil health and investing in the legacy of your family's farm. Holganix Bio 800+ harnesses the power of over 800 species of soil microbes to increase yield, improve crop resilience against stress and boost soil health.
At Holganix, we believe that by charging soil with diverse microbes, we help our farmers improve the health of their soil, and in turn, invest in the legacy of their farm for future generations.
Plus, farmers using Holganix Bio 800+ see a yield improvement in just one season!
Develop soil health

Increase yield

Faster establishment

Boosts roots; contributing to soil organic matter

Maximize uptake of nutrients, minerals, and water

Improve plant resilience against stress from tillage, weather, fungicides, and other stressors
Dig Into the Data: University and Commercial Grower Trial
Over the years we have compiled data on several different crops, in different geographic zones, to deepen our understanding of how Holganix Bio 800+ can help farmers maximize crops. Click on the button below to access a sample from our 2017 - 2021 collection.