By Kaitlyn Ersek on Jun 22, 2023 10:00:00 AM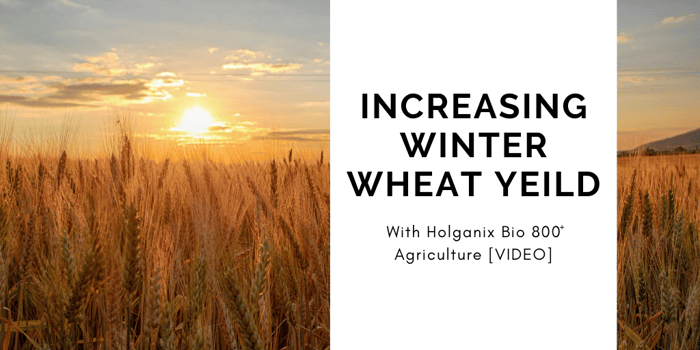 Looking to increase your winter wheat yield this year? Hoping to promote root mass so you nurture a healthier, stronger crop?
Holganix Bio 800+ Agriculture charges soils with over 800 species of soil microbes to promote soil health, improve root mass, and increase crop yield.
In this blog, we provide a synopsis of the following information regarding winter wheat. Keep reading, or click on the link to short-cut to that topic.
How Does Holganix Bio 800
+

Agriculture Work on Winter Wheat?

With Holganix Bio 800+ Agriculture, it all comes down to soil health and investing in the legacy of your family's farm. We believe that by charging soils with diverse microbes we help our farmers improve the health of their soils, investing in the legacy of their farms for future generations. That investment translates to yield gains and root development, especially with winter wheat.

Watch the video below featuring Holganix President of Agriculture, David Stark Ph.D. for a conversation on how Holganix Bio 800+ Agriculture works! If you are reading this blog via email, click here to watch the video.
What Does the Winter Wheat Data Say?
Holganix partnered with third-party researchers to evaluate Holganix Bio 800+ Agriculture performance on 5,000 acres of winter wheat. The trials spread across 37 locations averaging 135 acres per location, divided into 7 cohorts. Locations were in the midwest, ranging from Oklahoma up to Iowa and across to Ohio.
Of the locations, eight locations were treated with Holganix Bio 800+ Agriculture at 0.5 gallons per acre at planting in the fall. These locations saw 88% wins over the control. 24 locations received spring applications at 0.5 gallons per acre when the crop began growing again. The spring locations saw 79% wins. Lastly, five locations received both a fall and spring application and these locations saw 100% wins.
The third-party researchers conducting the test used a yield monitor to measure yield but considered the measurement of % wins as the most reliable data point since yield monitors are often not precise.
According to Farm Direction, for many major Agtech companies, a product is deemed commercially viable if win total % exceeds 70%. A 79% win would be viewed as a strong result, while 88% or 100% would be viewed as exceptional.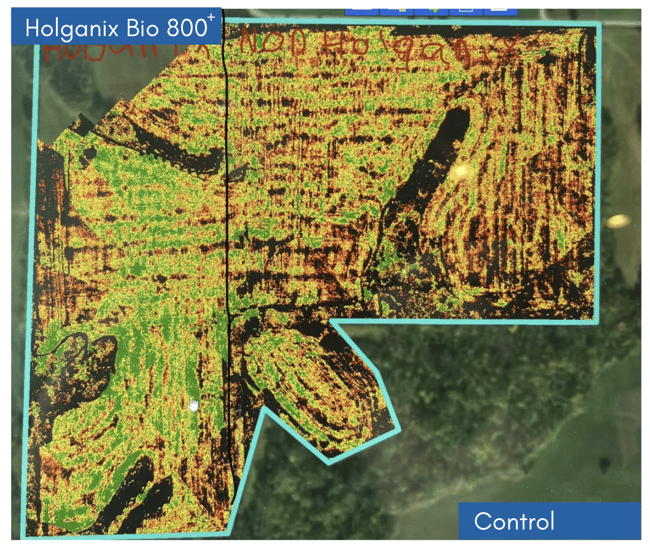 The above drone NDVI image is taken from third-party data in Missouri on May 19, 2022. The wheat was planted on November 16, 2021. The grower did a foliar application of Holganix Bio 800+ Agriculture on April 19, 2022, at 0.5 gal per acre. The photo demonstrates that the Holganix-treated portion of the wheat field is much healthier than the control.
Winter Wheat Testimonials from the Field
In addition to research acreage, Holganix Bio 800+ has been used on winter wheat by commercial growers over the last two years.
Below are some highlights from the growers. Additional details will be added to this blog as harvest hits and more data is made available.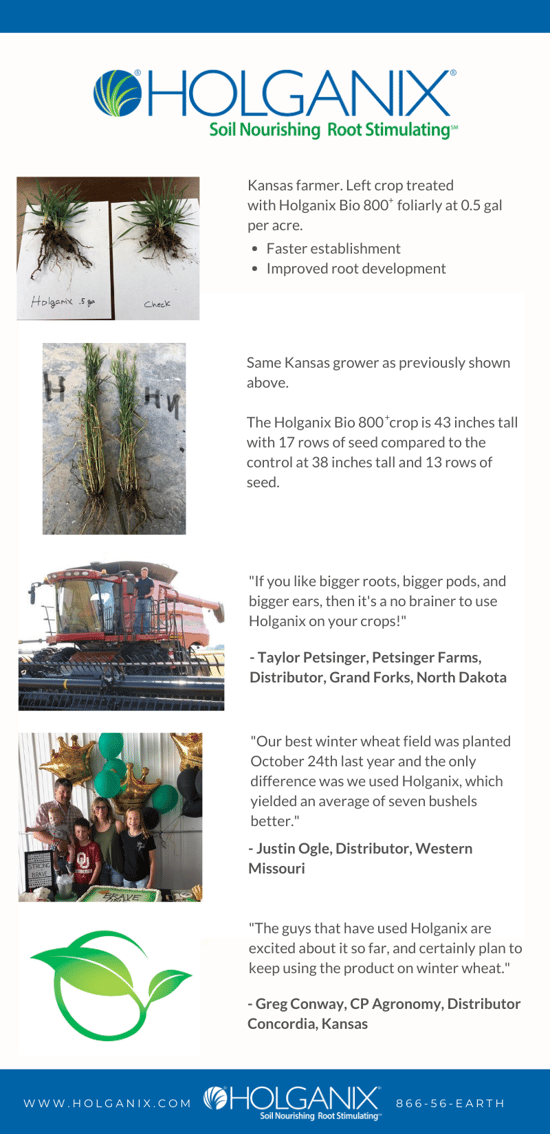 How Do You Apply Holganix Bio 800+ agriculture?
Holganix Bio 800+ Agriculture is applied one time at 0.5 gal per acre at, or as close, to planting as practical. It can be applied as a spring application if preferred.
Holganix doesn't require a special application or equipment, you can combine it with your fertilizers or herbicides, and the product can be applied in-furrow or foliar.
If you're utilizing small screens or tips, Holganix provides a filter sock at no cost to filter the product before adding it to your tank.
>>Learn more about using Holganix Bio 800+ Agriculture
Don't Stop Reading! Check Out Our Data on All Crop Types
The health and vitality of your crops and soils are of the utmost importance to us. That's why we put Holganix Bio 800+ Agriculture to the test.
Over the years we have compiled data on several different crops, in different geographic zones, to deepen our understanding of how Holganix Bio 800+ Agriculture can help farmers maximize yields.
Click on the button below to learn more about our data and science.