By Kaitlyn Ersek on Jul 9, 2015 10:49:00 AM
At 6:00 AM, Chris Bittles and I were seated at a table in the break room of the maintenance building at Muirfield Village Golf Club's Horticulture and Turf Maintenance Complex in Dublin, Ohio. And we weren't alone. Roughly 40 turf and horticulture specialists were seated around tables, sipping on coffee and listening in rapt attention as Director of Grounds Operations issued the days commands. On the wall hung a clock, counting down the number of days until the Memorial Tournament. Today it read 17 days.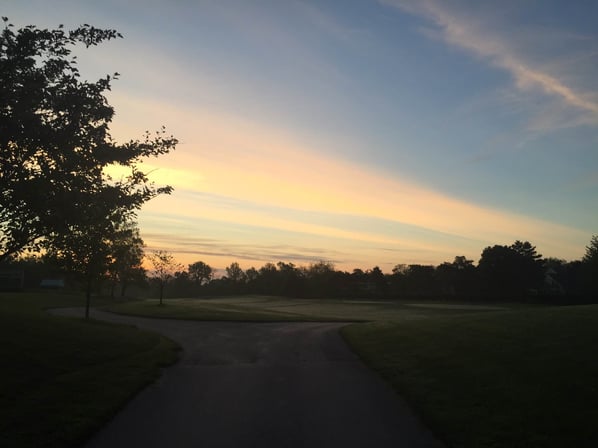 When Bittles, Holganix Experience Coordinator and I volunteered to help out for Memorial Tournament preparations, we didn't know what to expect. Bittles was three weeks into his job at Holganix, and I had barely stepped foot on a course before, let alone worked on one.
What we saw in those first few moments was a well-oiled machine, driven by a culture of candor or straight talk and hard work. And with one of the most important golf tournaments of the year being held in only 17 short days, perhaps we shouldn't have been so surprised. After all, one blunder could kill a tee or set operations back by hours or days – with neither situation acceptable. Before tournament time, the crew is expected to work 100 – 125 hours a week depending on weather. "It's hectic. Guys will literally sleep in the office and barely go home," remarks one technician.
For the next 36 hours Bittles and I got to be part of the Tournament prep chaos. We had the opportunity to work with Holganix Tree and Shrub in the greenhouses, plant some 300 begonias, hostas, boxwoods, hydrangas, catmint, kalamias and knockout roses among dozens of other plants and flowers. We also weeded several beds, mulched, rolled the greens, and cleaned out bunkers.
But one of the most memorable moments during our Muirfield experience was when we were invited to walk the course with Latshaw. As we strolled across fairways, greens and tees, Latshaw made special mention to fairway number 5.
"It was at this fairway, traditionally one of our weaker ones, where we really started to see the benefits of Holganix," explains Latshaw. In 2013, between the Memorial Tournament and the President's Cup, the club decided to push back #18 pro tee by 40 yards in length, in addition to adding a tee and two acres of undistributed turf area. "It ended up being more complex than anticipated… and I was concerned about playability for the President's Cup." On August 13, 2013, 45 days before the President's Cup, sod was installed. "The first thing we did was apply 14 ounces of Holganix Golf."
Hanging on every word Latshaw was saying, I was really excited to hear that by September 13, the renovation looked fantastic. "As far as rooting and establishment, I've never been able to get sod established this quickly, especially at such a difficult time of year." While Latshaw mentioned he had staff hand watering and monitoring the turf at all times, "Holganix really helped. We had no issues going into the President's Cup."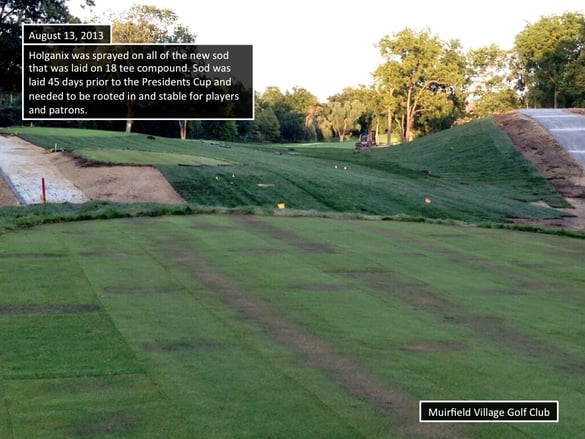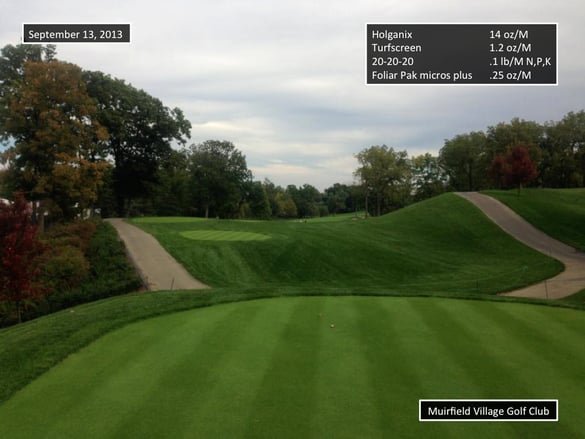 In fact, since starting Holganix, Latshaw reports that, "We've had some of the best rooting on fairways ever."
According to Latshaw, he begins every season with an initial load of 14 ounces per 1,000 square feet of Holganix on the greens. Following the initial application, he does monthly apps at 7 ounces per 1,000 square feet. However, "on tees and fairways we apply Holganix at a rate of 7 ounces per 1,000 square feet monthly."
Bittles and I spent the entire Memorial Tournament week telling anyone who would listen about our time spent at Muirfield and the huge amounts of work that go into it's preparations. Perhaps CBS Sports said it best of Lathsaw and his team, "just a genius director of grounds operations – gets this course immaculately presented every year." We would like to send a big thank you to the entire Muirfield team for giving us a glimpse into the Memorial Tournament preparations and the golf industry in general.
Watch our tree and shrub video at Muirfield Village below.