By Kaitlyn Ersek on May 24, 2018 6:13:00 AM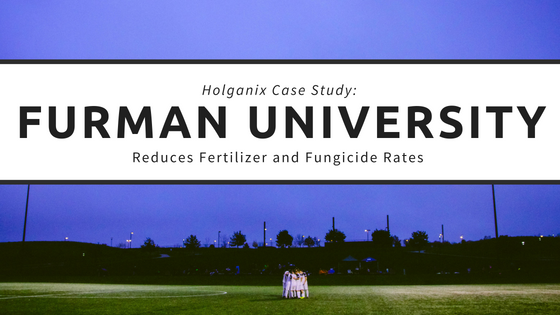 Repeatedly recognized as one of the most beautiful U.S. college campuses by Buzzfeed, College Magazine, Travel Channel and USA Today, Furman University in South Carolina takes the maintenance and planning of their green spaces and sports fields seriously. Aside from the traditional beautiful landscaping beds seen at other college campuses, Furman also has a 25,000 square foot rose garden home to 30-to-40 different varieties of roses and a 2,000 square foot upper garden solely dedicated to growing Givenchy roses.
The team tasked with nurturing Furman's greenspaces is led by David Manning, Superintendent of Grounds and Sports Turf. According to David, "I love that what we do brings joy to the students, visitors and other staff. We are giving people a place to come and smile."
David is armed with several tools in order to be successful at his mission to keep Furman looking its best, some of those tools include Holganix products like, Holganix Lawn, Bloom, PB1 LTO 4-0-2 and Blue Sky 21-0-0.
"We've been using Holganix products for about a year now," explains David. "We've reduced our chemical inputs with Holganix products which has helped us reach sustainability goals for Furman's grounds management."
Results on the Grounds
"I come from a golf course background and when I was first introduced to Holganix products, I wrote them off as snake oil," admits David. "They seemed too good to be true." But, when David heard about the results seen on other sports fields, he decided he needed to give the product a try.
To test the product, David blocked off two plots to compare a Holganix program against his traditional turf care program. On the Holganix plot, David incorporated Holganix Lawn, a 40% reduction in fertilizer and eliminated all blanket fungicide applications. "I honestly couldn't tell the difference between the Holganix plot and the traditional fertilizer program plot. This was a win for us because it was important to continue guaranteeing great results while backing off of our chemical inputs."
After seeing the results from his trial, David rolled out the Holganix program throughout the campus grounds. "We are using Holganix Lawn on both warm and cool season turf," explains David. "Our cool season turf looks shiny, hardy and thick. We also haven't had to supplement the turf with irrigation. It looks beautiful." Traditionally, David has struggled to get his warm season centipede turf to perform. "We talked about changing out the grass variety but decided to try Holganix Lawn first. It has grown in beautifully, even crawling into shady areas. I really believe Holganix Lawn has helped the warm season turf."
Ongoing Trials on Sports Turf
This year, David has designed an eight-acre trial on his soccer field to compare his traditional program containing a package of minors and iron against a combination of Holganix products including Holganix Lawn, PB1 LTO 4-0-2 and Blue Sky 21-0-0.
"Our soccer complex gets a lot of use and we are hoping to see an increase in root depth and damage recovery. We have already seen better color." According to David, on the Holganix-treated field, he saw a six-week green up period whereas on his traditional program, David saw about a two-week green up before the color fell off.
In addition to trialing the product on the sports field, David will also be testing the product on the garden beds and Furman's several rose garden.
About Holganix Lawn, Holganix Bloom, Holganix PB1 LTO 4-0-2 & Holganix Blue Sky 21-0-0
Holganix Lawn is part of the Bio 800+ family of products which is teeming with over 800 species of soil microbes, among other ingredients. Holganix Lawn improves rooting, reduces the need for chemical inputs and improves turf resilience so the turf can better withstand stresses.
Holganix Blue Sky 21-0-0 is a slow release nitrogen fertilizer that creates a steady growth and low color throughout the season. Lastly, Holganix PB1 LTO 4-0-2 is a targeted plant probiotic that increases nutrient utilization and plant resilience.
The Holganix Bio 800+ products, Blue Sky 21-0-0, PB1 LTO 4-0-2, among other products are used as part of the Soil Smart fertilizer programs that are regionally designed to provide predictable green, weed-free results. Contractors can download their region's Soil Smart Programs by click the button below.