By Kaitlyn Ersek on May 31, 2018 10:10:59 AM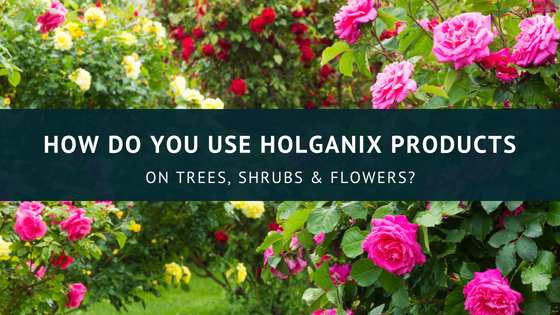 Is your company currently providing plant health care services or do you install plant material? Are you looking to ensure that your plants don't just survive, but thrive? Holganix's unique programs may be the answer you're looking for. Throughout this post we will discuss how Holganix products help contractors create thriving plants, see real results from contractors using Holganix in the field, and see how to best use these products with trees, shrubs, and flowers. You can also skip the article and simply watch the webinar recording below! If you are reading this blog via email, click here to access the video.
No matter the product or program, Holganix focuses on soil biology as the solution to plant health. At Holganix we believe that the best way to have full, colorful, disease-free plants, is to first take care of their health. At Holganix we have a variety of products, but what ties them all together is that they ALWAYS start with biology in mind.
Holganix products are used to treat trees, shrubs and flowers using two methods: (1) Plant Start Applications and (2) Soil Smart Program.
Plant Start Applications - Using Holganix Bio 800+ products at Planting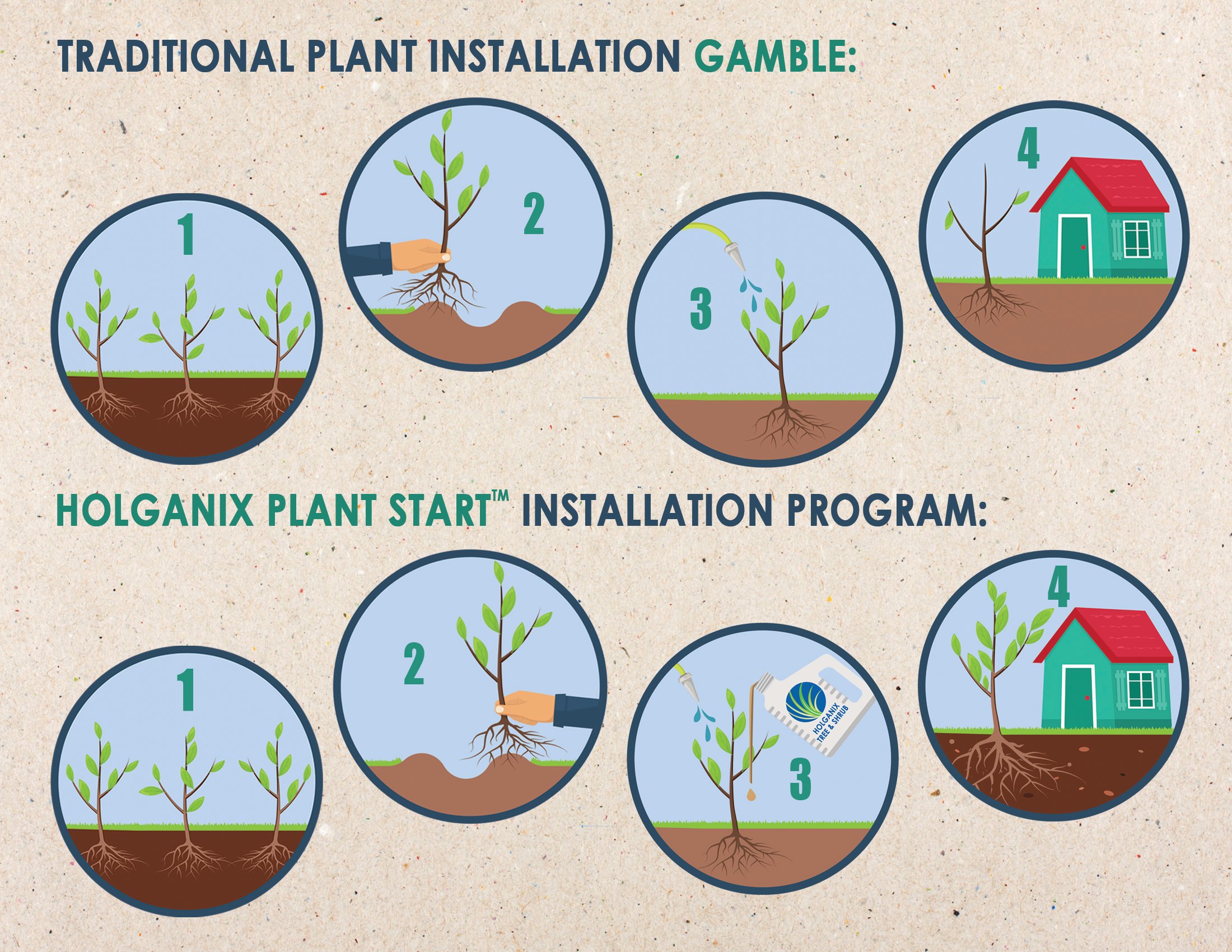 Often, the problem with traditional plant installations is that you take a perfectly satisfied plant and install him in an environment with poor soil quality. As a result, the plant becomes stressed and transplant shock often occurs. However, when you install a plant and water it in with Holganix Bio 800+ Tree and Shrub or Holganix Bio 800+ Bloom during the installation, you ensure your plant not only survives in its new habitat, but it thrives. It's like insurance for your installation!
Holganix Bio 800+ products are used in plant start applications to:
Reduce transplant shock

Grow strong plant roots

Boost color
The Plant Start installation is easy, and there are a variety of ways to apply your product to your plants. Watch our video below for a demonstration or click here to watch the video if reading this blog via email.
Soil Smart Program - Using Holganix Products During Maintenance Program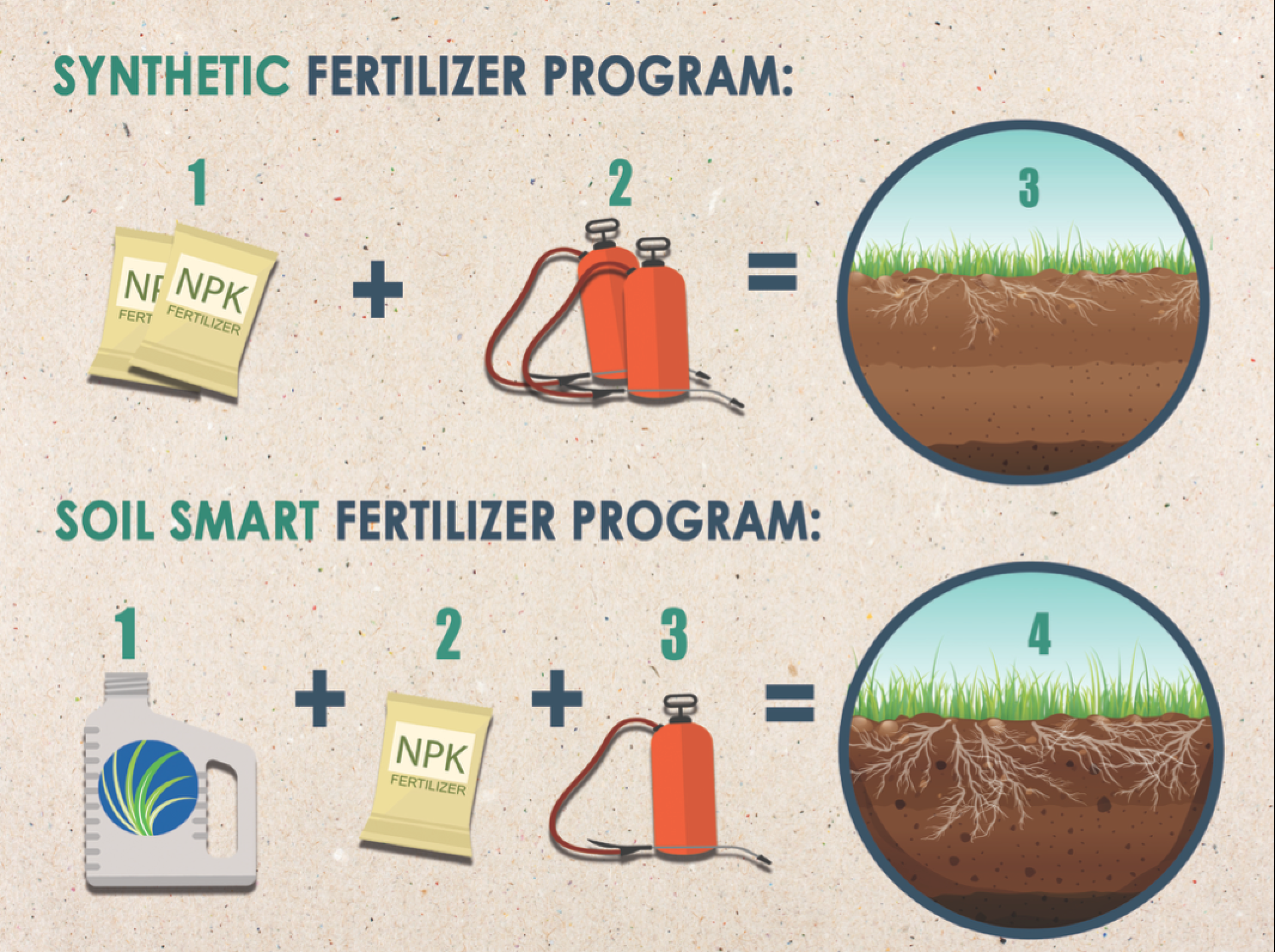 The traditional method for a program incorporates fertilizer and pest control aspects that are synthetic-based. We do get results from these but it seems that we end up using more and more chemicals to get the job done, and in the end, do not necessarily help stabilize the plant's health.
Holganix Soil Smart Program consists of all the products needed for a fertilization program including fertilizer, pesticides and of course, your Holganix plant probiotics. However, unlike a traditional fertilizer program, the Holganix Soil Smart Program requires fewer fertilizers and pesticides to create lush, healthy plants. Furthermore, the Soil Smart Program focuses on building strong, resilient plants that is better able to deal with stress.
>>For details regarding your tree and Shrub Soil Smart Program, contact Ed Karpyn at ekarpyn@holganix.com.
Do Holganix Products Really Work?
We have several case studies from contractors using Holganix products on trees, shrubs and flowers. Review some of the highlights from our case studies and click on the article link to read the full story.
The Shrubbery Specialist
"We are passionate about Holganix and after the thorough testing we conducted on the product; we know it's awesome." - Stephanie Whitehead, The Shrubbery Specialist
Roses - 25-30% larger, less disease and pest

Boxwoods - less disease (blight)

Gardenia - ferer insecticides despite problems in the area with white fly.
Benerget Greenhouse
"Holganix places me in a better position to sell something lush." - Denny Benerget, Benerget Greenhouse
Reduce fertilizer by 10-15%

Reduce fungicides by 30%
Zehrs Garden Center
"I would recommend Holganix Bloom to any growe. There's a tremendous amount of science behind Holganix products and at the end of the day, the proof is in the plants!" - Mark Van Buren, Zehrs Garden Center
Healthier overall plants

Less problems with insect and disease
Red Diamond INC
"I won't plant anything without Holganix products!" - Brandon Haley, Red Diamond Inc
Fewer fertilizer needed

Less disease problems

Improved root depth

Installs grow in quickly and healthy
Incredible Edible Community Gardens
"IECG would definitely recommend Holganix to other growers." - Mary E. Petite, Incredible Edible Community Gardens.
Increased flowering on Orchard trees

Improved quality of plantings/installs
Want to dig into Holganix?
Holganix offers a variety of products that ALL put plant health first. With our easy to use programs, contractors are able to see improvements with installations, year round growth and color. If you would like to learn more on how to incorporate Holganix into your company watch the full webinar recording or reach out to Holganix Horticulturist Ed Karpyn at ekarpyn@holganix.com.
Article by Leah O'Neill