By Nicole Wise on Dec 4, 2012 12:43:00 PM
The Science Behind Holganix
Entry 41: Holganix is a Hole in One!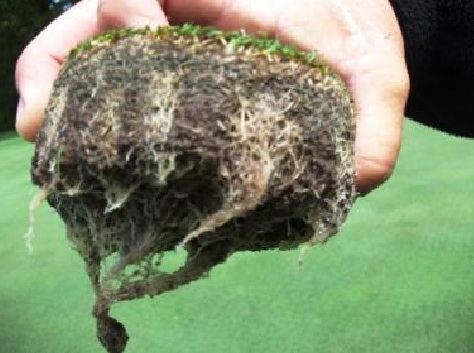 A private golf club superintendent in Suffolk Virginia started getting comments from the members on how much smoother the greens were putting. He had switched to Holganix not too long ago, and he observed that not only were the greens putting smoother but also the turf roots were extremely healthy. He commented to Holganix that there was a very high density in the aerification holes and that there were lots of new, healthy white roots (see picture above). Several golf courses on the east coast and mid west have begun switching their program to Holganix.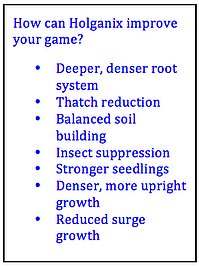 The key to Holganix Golf product is that it helps not only with color, but also with root density, drought and disease suppression. These key benefits are starting to draw in golf course superintendents especially during the tough summer months.
Holganix is a 100% bionutritional product and it all starts with a refined plant-based compost tea. From there, numerous microorganisms, beneficial fungi and botanical extracts are added to help golf course turf look its best. According to Dr. Roch Gaussion, interim head of agronomy and horticulture at the University of Nebraska, in an interview with Golf Course Industry magazine, "Bionutrition is a viable option in fertilizer strategies for managing quality turfgrass facilities." Some of the key ingredients that Holganix includes to help golf course turf include but are not limited to:
Mycorrhizae- This beneficial fungi aids in root development and density. It also allows for better water retention and improves nutrient uptake.
Streptomyces- This microorganism deprives bad fungi of space and nourishment. It promotes growth and yield of plants and suppresses soil-borne diseases.
Trichoderma- This microorganism also suppresses root disease and protects tree wounds from decay.
Auxins- These plant hormones are natural plant growth regulators and help increase root density.
Yucca extract- This ingredient allows for better water retention and disease suppression. It also acts as a natural spreader sticker, wetting agent and soil conditioner.
Stay tuned for next week's entry in the Behind the Science of Holganix series or check out our Marketing Hints and Tips series for marketing inspiration and business growth advice. If you have any questions, don't hesitate to give us a call at 866-56-EARTH.