If you didn't get a chance to read part one of Jimmy Alston's interview, scroll back to our previous blog post or click here to learn why there is a thin line between love and hate.
Jimmy Alston is the superintendent of championship course, Eagle Creek Golf and Country Club in Naples, Florida. After growing up in a farming family, he knows a thing or two about soil. Alston has been mixing his own "bug brews" for over twenty years, and is tickled green that he no longer has to utilize a DIY approach. Holganix provides him with all of his ingredients already mixed together in a single jug. That means Alston can spend more time "wooing" and less time "brewing"!

Although already intrigued by Holganix, Alston really knew he was on to something when his course started requiring less overhead irrigation and then no hand watering of greens…ever! Before using Holganix, Eagle Creek was irrigating greens every seven to eight days for the past five years, and hand watering certain areas almost every day. After applying Holganix, Alston was only irrigating greens an average of once every 12 to 14 days. Alston attributes this change to the Yucca extract in Holganix because he had not added anything else to their greens management programs.
In the past, Alston has used various Yucca products and he never saw this tremendous of a "water needs" change with any other product. According to Alston, "the best benefit was that the soil never seemed wet, so this change wasn't due to some type of extreme "water-holding" phenomenon."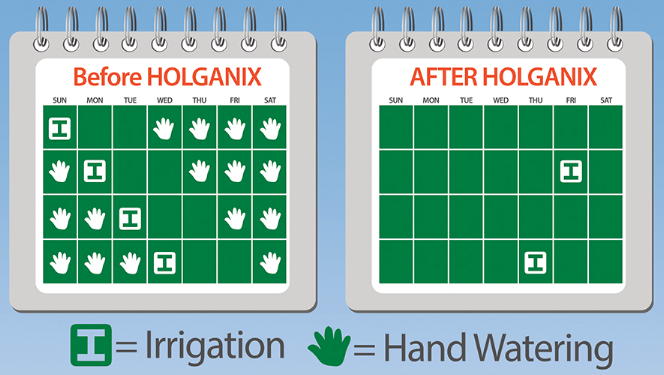 One of the most exciting observations was in May of 2014, after ten months of consistent Holganix use, and during his yearly soil evaluation to prepare his summer cultivation plan.
When Alston started at Eagle Creek in 2007, the course suffered from massive thatch problems. Over the past three years, going into the season Alston would have .5 inches of thatch. By May, he would measure 1.0 inch to 1.25 inches of thatch. To bring thatch back to .5 inches, Alston would aggressively graden verticut at least twice throughout the summer.
However, in May of 2014, after using Holganix he measured thatch at .25 inches. He was shocked because he has never seen a biostimulant, inoculant or organic product able to make such a drastic change in such a short period of time. The reduced thatch levels resulted in no graden vericutting for the entire summer! Golf course members were thrilled! Furthermore, revenues remained high because players didn't have to deal with playability killers due to graden lines.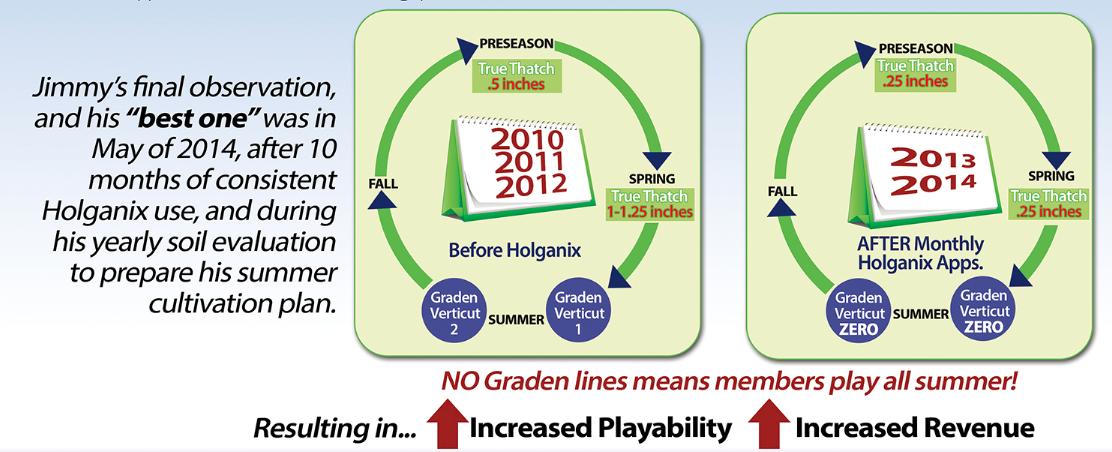 When Alston's Soil Food Web microbial samples came back, there was a huge increase in total fungi and total active fungi. He was amazed, because he has spent ten years applying other products with no increase ever measured. In Alston's opinion, beneficial fungi are the most important, and often missing link in the microbiology of golf greens. These are the precursors in the breakdown of thatch because they make the initial move on dismantling Lignin Cellulose.
"Holganix and Holganix only is why we saw the tremendous change in our thatch levels and to me, also proves that Holganix works and works well!" says an enthusiastic Alston. "I've seen some super good stuff with Holganix and I highly recommend it."