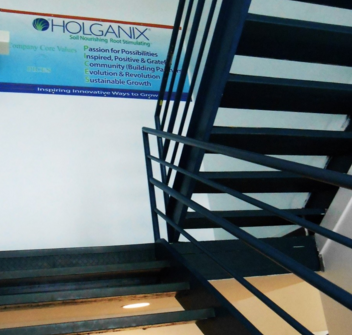 As you walk into the Holganix office, a 10' banner listing our Core Values hangs in the stairwell to greet you. You might think that this reminder is a great way to start each day, but surprisingly, many of the Holganix employees have already practiced at least one of our Core Values before they even entered the building. You see, during the daily 8:28 am Holganix team conference call, each participant begins the conversation with what they are grateful for to jumpstart the positivity in their day.
So it is no surprise that Holganix would champion The 4th Annual Bionutritional Summit, a day-long gathering of members from the green industry to learn and network; to grow roots, minds and businesses, and then to depart as one repeat attendee said "Walking away with my wheels turning."
This year's focus was about Bringing Our Core Values to Life. It began with a Keynote by International Motivational Speaker and Holganix CEO, Barrett Ersek and was based on his Harvard Business Review-published article: "The X Factor: Breaking Your Industry's Bottlenecks". Barrett challenged his audience to identify the bottlenecks that not only THEIR company is facing, but the industry as a whole. Developing solutions to the Holganix refrigeration, concentration, and transportation issues was a great example of overcoming our bottlenecks. Check out a recording of Barrett's presentation below. You can watch Barrett's Keynote Presentation here.
Shaun Kanary, Marketing Professor and Weed Pro's Director of Marketing rocked the house with his presentation on Inbound Marketing. Shaun shared how to integrate inbound and outbound marketing to "capture" leads, drive them into your sales funnel, and "follow" the prospects around social media for up to 6 months with variable messaging to convert them into customers! And the kicker? Shaun spent HALF the marketing dollars and gained almost DOUBLE the customers using inbound marketing than with direct mail! To check out all of Shaun's tips, view his recorded webinar below. For all his invaluable tips, check out the video here.
In addition to these presentations, there were four more awesome sessions which included a discussion on Healthy Grow Granular Infused with Holganix, Dr. Cale Bigelow's Seminar about Lower Input Lawn Care Programs, A Roundtable Discussion with Holganix Users, and crowd-favorite Stephen T. Lange answering everything anyone wanted to know about anything! A fun reception with great food, drinks and networking followed in the renowned Rathskeller, famous from its references in The Great Gatsby.
We hope you will join us next year! Look out for information on the date and location for the 2016 Bionutritional Summit!