I first met Jimmy Cox, CEO and Founder of Picture Perfect Lawn Care at a Day of Growth event held at Holganix Head Quarters in the summer of 2014.
Intended as a small learning symposium for Holganix customers in the lawn and landscape business, Jimmy had decided to attend with his wife and son to both learn about Holganix and gather knowledge on how to take his lawn care business to the next level.
Holganix's marketing team dove into their marketing plan and brand promise with the Picture Perfect Lawn Care family. "Specifically, we wanted to distinguish what made Picture Perfect unique and special – their differentiator," says the marketing team.
Differentiating Picture Perfect Lawn Care
For Jimmy, his differentiator came down to two things: (1) Using Holganix and (2) His family-owned business.
"I like to be different from everyone else," explains Jimmy. "No one in the area was doing anything like Holganix. It makes Picture Perfect unique and memorable."
According to Jimmy, "A lot of our customers and prospects think using Holganix is pretty neat and different."
Another big differentiator for Picture Perfect is that the business is family owned and run. Jimmy and his wife Lisa, run the business with their two sons, Brandyn and Blake.
"Running a business with family is both an amazing experience and at times, difficult. My family really knows how to make it happen. We are a team. But, at times it can get rough," warns Jimmy. "You need to know how to separate family from business. It's not for everyone."
As you can imagine, one of Jimmy's favorite parts about Holganix is the marketing and production support as well as the networking platform Holganix provides for users. In addition to the Day of Growth seminar, they also attended Holganix's Bionutritional Summit at GIE+EXPO.
Providing Exceptional Results
But for Jimmy, Holganix isn't just a way to market Picture Perfect's individuality. It's also a huge benefit in providing the exceptional results customers' desire.
The thing that drew Jimmy to Holganix was the possibility to produce results while putting down less fertilizers and pesticides.
To date, Jimmy has reduced his fertilizers by nearly 50% (currently putting down 2.2 pounds of Nitrogen when he traditionally put down 3 to 4 depending on the application), and is spraying herbicides at the minimum label rate.
Jiimmy says that with Holganix, the turf is thicker and greener and that the roots are running deeper into the soil.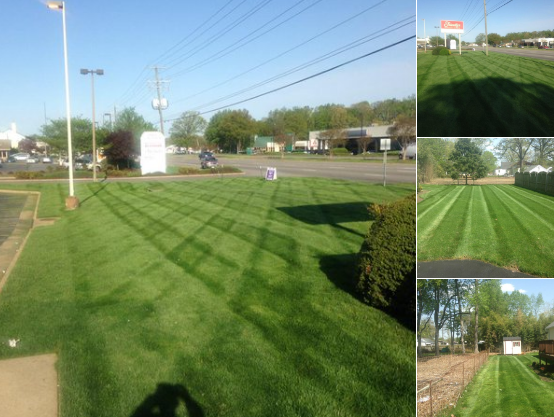 "All of our customers are super happy," says Jimmy.
For example, one customer has a soft spot for her Azalias. "She had TruGreen for years and switched to Picture Perfect as a new customer in 2015. We sprayed her Azalias with Holganix Tree and Shrub; she said she had never seen them so beautiful. She wound up giving us four referrals!"
And, it's not just Picture Perfect's customers that are impressed with Holganix. "Our competitors ask us what we are doing to produce results. But I refused to give up our secret!"
Because continually providing great results is key for Picture Perfect, Jimmy has been running tests with Holganix against other organic products. "When I ask people which side of a plot test is best, they always point to the Holganix plot!"